Kushuhara Trading
The company has been trading since 2002 and holds import and export licenses for a large range of fish and seafood products with Srilankan government approval.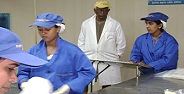 What We Do
Our factories and boats are EU accredited and regularly audited to ensure standards are maintained. Traceability is very
important to Kushuhara Trading Company and each caught fish can be traced back to the boat from where it was landed. All fish are line caught in traditional boats within Srilankan waters. We also export various exotic fish such as snapper, grouper, kingfish and other varieties as requested by our clients. Kushuhara is leading in this rapidly expanding business.

We supply worldwide resorts with seafood, the most requested items being lobster, prawn, crab, shrimp and cuttlefish all of which is abundant in the pristine


Sri Lankan waters. We also provide resorts with delicasies such as tuna, marlin and other exotic fish from around the world. Also available for export is shark oil, dried fish and sea cucumbers.
Our main clientele are from;
Kushuhara Trading is registered under;